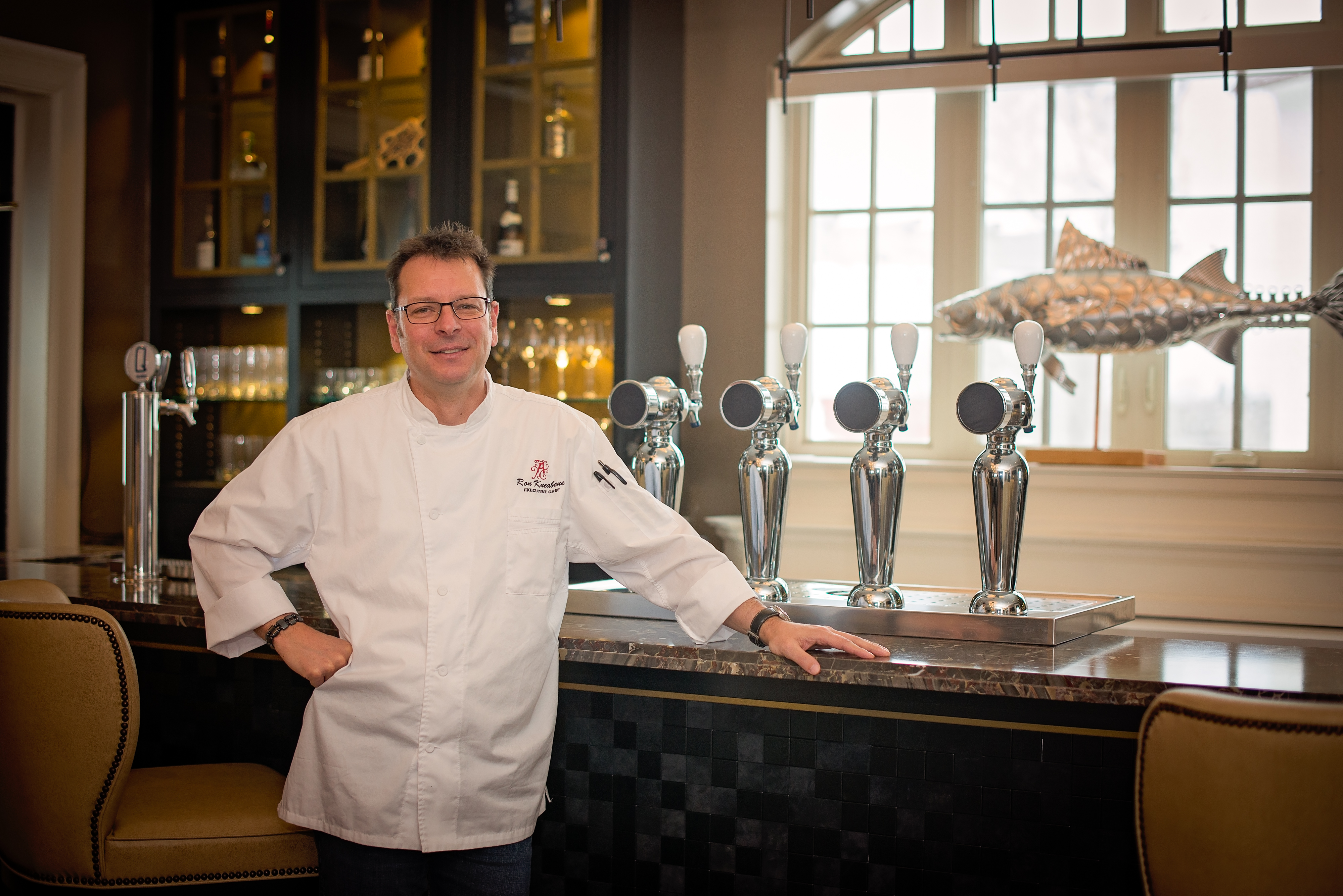 Chef Ron Kneabone
Chef Darren Dorcas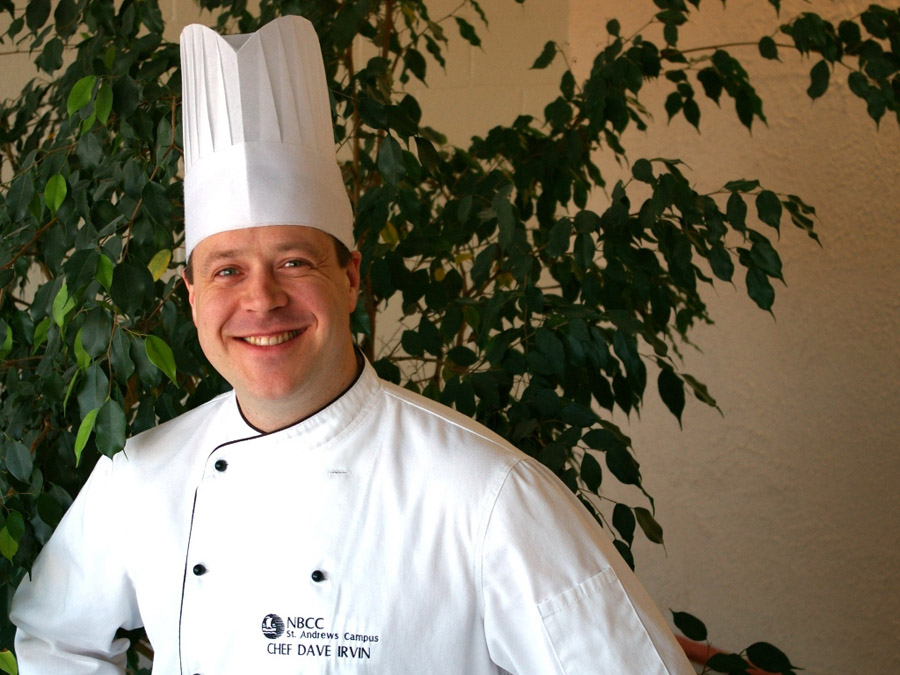 Chef Dave Irvin
Chef Markian Shafransky
Chef Matt Pennell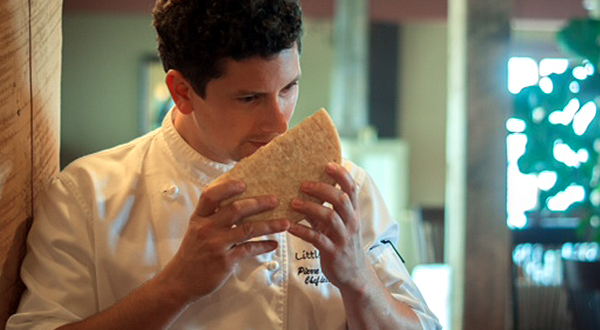 Chef Pierre Richard
Chef Alex Haun
Chef Chris Aerni
Chef Ron Kneabone

Ron is an extremely talented chef who has spent the past decade mastering the complexities of a destination resort property. Chef Kneabone's leadership is creative, on trend and provides our guests with a memorable dining experience. On the job for only a few weeks, he jumped in and delighted Prime Minister Justin Trudeau's entire cabinet at their first caucus meeting. Kneabone is a Culinary Institute of Canada graduate who apprenticed at the Calgary Olympics and spent 10 years in France perfecting his craft in Michelin three-star restaurants and farm to table operations in Alsace before returning to Canada. He is a Taste of Canada gold and silver medal winner. ALGONQUIN RESORT Kneabone's team smokes its own salmon, uses honey harvested from our onsite hives and this season will add edible flowers to the rooftop herb garden that supplies the kitchen.

Chef Darren Dorcas

Chef Darren Dorcas is a native of Quispamsis, who loves to call New Brunswick home. Chef Darren commenced his career with Canadian Pacific Hotels, which saw him spend his early years in the Canadian Rockies at The Lodge of Kananaskis. Longing for home he returned to N.B. to start his formal Culinary Apprenticeship with Delta Hotels, spending time at The Delta Beausejour in Moncton, working at the award winning, five diamond Windjammer restaurant. After completing his formal training he went on to become the Executive Sous Chef at the Delta Prince Edward, in Charlottetown. During his time on the Island Chef Darren represented the province of P.E.I as a senior member of the provincial Culinary Team. The team competed at the Atlantic Culinary Exhibition winning two Gold Medals back to back in 2007/2008. Darren returned home as the Executive Chef of The Delta Brunswick. When presented with the opportunity to share his knowledge and passion for food with young culinarians, Chef jumped and he now calls the NBCC St. Andrews Campus home where he is a Culinary Arts Instructor in the Hospitality & Tourism department. Chef Darren's cuisine is heavily influenced by the abundance of local ingredients found in the province as well as his close proximity to the Bay.

Chef Dave Irvin

NBCC ST. ANDREWS

Chef Markian Shafransky

SHADOW LAWN INN

Focusing primarily on a market driven, regional/seasonal cooking style,Chef Markian has been delighting locals and visitors since 2004 in Beautiful Southern New Brunswick.

Originally from Montreal, he completed his training in Ottawa and received his Red Seal in 2002 after working in some of the city's most critically acclaimed restaurants such as Juniper and Social. In 2009 Chef Markian successfully challenged and received his Certified Chef de Cuisine designation after 2 years of studies through SAIT in Calgary. This status, shared by approximately only 1000 others chefs is one of the highest accreditations for culinary professionals in Canada.

Chef Markian's cuisine draws many influences from his Ukrainian heritage and will delight your senses with innovative and local twists put on dishes enjoyed during his youth. This merging of "old school" ideas and respect for food, coupled with some "new school" cooking techniques was truly showcased while Markian was the Chef de Cuisine for 6 years at the Rossmount Inn in St. Andrews.

Markian's natural passion for the culinary world and love for the passing on of knowledge was also evident while he taught Culinary Arts and Hotel Restaurant Operations at NBCC St. Andrews for 2 years.

After working as a member of the crack culinary team at The Algonquin Resort in St Andrews for 2 seasons to develop new menus for the hotel's upcoming grand opening, Chef Markian has relocated to the Saint John area to lead the kitchen team at Shadow Lawn Inn.

Chef Matt Pennell

Chef, Matthew Pennell, Age 32 – (Moncton, NB) Originally from Newfoundland, now Matthew is the Executive Chef at Moncton Coliseum/Legend's Restaurant. Trained at the Canadian Culinary Institute in PEI and has owned and worked in top restaurants in Canada and featured in MacLean's Magazine. Other experience includes Sous Chef at a Michelin Star restaurant in the United States. Competing and winning on Food Networks, Chopped Canada allows him to continue to prove himself at the highest level.

Chef Pierre Richard

LITTLE LOUIS' OYSTER BAR

Chef Pierre A. Richard, born and raised in Moncton N.B., developed a taste for the culinary arts at an early age. Under the guidance of his mother, he joined in planting, cultivating and finally the harvesting of the family garden. The garden's offerings became a pallet for Pierre in the family kitchen, resulting in him being responsible for the preparation, cooking and serving of family meals several days a week. Coupled with this experience, and a desire to expand his horizons, Pierre sought summer employment in the culinary field in local restaurant kitchens.

Hearing about possible openings in the industry and fueled with a desire to further his dream, he decided in his late teens, to cast his eyes to the West and soon found employment in the industry in British Columbia. To further his career futures, Pierre moved to Canmore Alberta where he completed his apprenticeship in a well-known AAA/CAA Diamond Restaurant. From that point he was then spirited away to the kitchen of the nationally known Crazyweed Café. The final result of his quest was the achievement of his Red Seal Chef Certification at the Southern Alberta Institute of Technology (S.A.I.T.). Pierre relocated to Saint John N.B. in 2006, working in several local restaurants until he gained employment as Chef de Cuisine at Opera Bistro. Under the tutelage of Master Chef Axel Begner, Pierre matured as an up and coming culinary force. An opportunity to move back to Moncton was eminent as he had an opportunity to join the kitchen brigade at one of Atlantic Canada's award winning and premier restaurants, Little Louis' in Moncton, N.B. as Sous Chef. Pierre's kitchen contributions of promoting local product and unique taste completed the quality required in the kitchen by then Chef Andrew Stevens.

This teamwork and artistry resulted in Little Louis' being awarded Four Diamond Restaurant status by AAA/CAA. This award was in addition to the internationally recognized Wine Spectator Award, among numerous others. Here Chef Richard is at home creating exquisite flavours and aromatic experiences, with his Modern French Cuisine offerings that truly enhance the Little Louis' dining experience.

Chef Alex Haun

SAVOUR IN THE GARDEN

Alex had started his culinary career by the age of 13, working at the Garden Café located at Kingsbrae Garden in his hometown, Saint Andrews New Brunswick. He spent 5 years there while finishing his public schooling. Following his dreams of becoming a chef, Alex enrolled in the 2 year culinary arts program at the Culinary Institute of Canada in Prince Edward Island. This lead to an apprentice position at the Relais & Châteaux Kingsbrae Arms where he worked under Chef Mark Latulipe.

TRAINING
After finishing Culinary Arts, Alex took a position as Chef de Partie at the Dundee Arms under Chef Patrick Young. Before completing his term with Young, he made the decision to finish what he started and he re-enrolled at the CIC for the Pastry Arts Program.

During this time Chef Alex started competition cooking, individually and as a member of Team PEI, where he was later nominated as Team Captain under the careful eye of Chef Blair Zinck. After graduating from the Pastry Program, he became Sous Chef for Chef Victor Maclean at Stanhope Bay and Beach Resort, part of the Murphy Group of Restaurants, where he eventually became a Corporate Pastry Chef.

Alex hadn't had his fill of the CIC, and returned yet again to be an active member on Culinary Team Canada for one and a half years. As a result, he competed at the Nations Cup in Grand Rapids Michigan and the Culinary Olympics in Erfurt Germany. The coaches that Chef Alex thrived under were Chef Hans Andregg, Chef Richard Braunauer and Chef Craig Yodale. To date Chef Alex has 12 culinary Gold medals to his name and 5 of them are international wins.

Finally moving home to St. Andrews, the talented young Chef Alex opened his first restaurant, Savour, in 2009, at the age of 22. In 2013, Chef Alex moved Savour to Kingsbrae Garden to create Savour in the Garden. Here, he uses his skills to create monthly Tasting Menus using fresh and local ingredients, minding his environmental footprint by using items from his own farm and other local suppliers around New Brunswick.

Savour is a living dream where the Chef serves just a few people a night.

Chef Chris Aerni

ROSSMOUNT INN

After a traditional chef's training in Switzerland and extended education in business studies in the hospitality industry, Chris Aerni travelled and worked in various restaurants and hotels gaining experience in the different kitchen ranks and corporate managerial positions from Australia to Toronto. In 2001 he and his wife purchased the Rossmount Inn in St. Andrews by the sea, New Brunswick, an 87 acre estate, set between the forest and the sea including an 18 room country Inn with a fully licensed bar and restaurant.

While fulfilling his chef's dream and culinary vision, the restaurant at the Rossmount Inn has gained a wonderful reputation for its creative, market fresh cuisine honoring local ingredients and the people who produce them.

Today, Chris Aerni's kitchen has become a reputable training ground for young chefs and culinary students. They have the opportunity to obtain culinary knowledge in a kitchen that focuses its daily menu on the availability of the products from the kitchen garden, the nearby organic farmers, the community supported fisheries and not least the seasonal foraging of wild foods such as mushrooms, cat tails, goose tongue greens, kelp, etc.

With a focus on demonstrating the use of local products in his restaurant at the Rossmount Inn and as an avid promoter of the Bay of Fundy, New Brunswick and Atlantic Canadian products, Chris has become a regular speaker at sustainable seafood events along the Atlantic coast.